Beginning January 2023, we are pleased to announce that Cityteam Portland will be stewarding Night Strike services.
You can still sign up here!
NIGHT STRIKE VOLUNTEER SIGN-UP
Although modified, Night Strike is currently operating under the Burnside bridge on Thursday evenings from 7:30-9:30. We will have limited service options for guests and limited volunteer opportunities. Sign ups are required as we can not accommodate walk up volunteers.
Night Strike Volunteer Sign Up:
We also have openings for volunteers to help prepare the Night Strike meal. The Food Prep team meets on Thursday from 4:30-7pm. Please email info@bpmpdx.org for current openings. Volunteers must be OVER 18, and have a valid food handler card.
-Light Jackets
-Suntan Lotion
-Bottled Water
-Tents
-Shelf-stable Juice Concentrate
-Boots/Shoes
-Toothbrushes
-Deodorant
Please contact us at 503-664-0653 to arrange donations of in-kind items.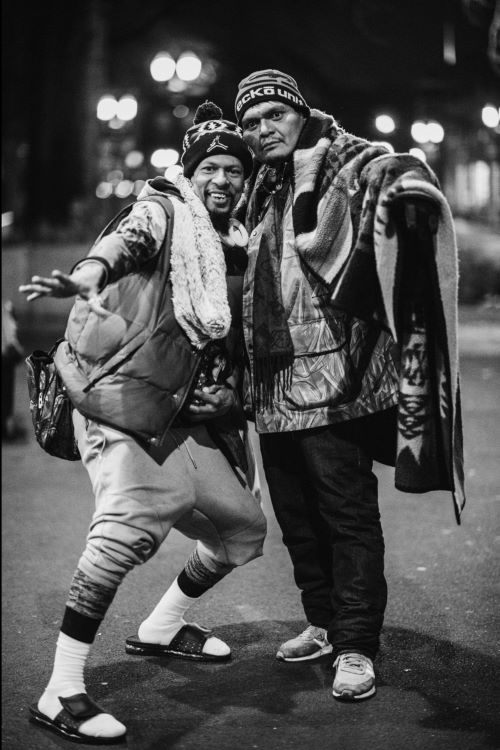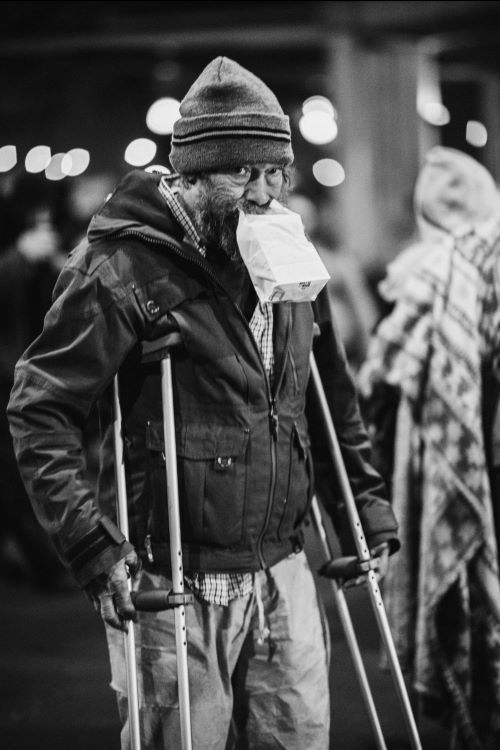 Night Strike is a community gathering
that mobilizes volunteers/services, meets felt needs, and develops relationships that transform lives. It is a unique opportunity for people to spend time under the Burnside Bridge every Thursday night to love people because people matter. It is an opportunity for members of Portland's homeless community to hang out, enjoy a hot meal, receive a free haircut or shave, have their feet washed and have their old shoes/clothes/sleeping bags replaced. It is also a chance for you to come down and share in the experience, help serve the needs of the homeless in our community, and more importantly, invest in lives and build relationships with the people you meet.
Thursdays, weekly (47 weeks of the year)
Doors open at 6:30pm
Orientation promptly at 7:00pm
No admittance after 7:15pm
Meet us at
Liberation Street Church
214 W Burnside Street
Portland, OR 97209
Under the broadest definition, there are currently 15,917 homeless people living in the Portland metro area – couch-surfing, families sharing homes, families living in cars, and living in shelters or outdoors. Of these, over 4,000 are living on the streets and in emergency shelters.
in the Portland metro area.
Through Night Strike, we have built countless relationships between our volunteers who come under the bridge, and those who live in the margins of society. We do life together. Beyond the obvious need for a blanket, dinner, or a haircut, humans need conversation and community. Night Strike creates space for relationships to form. Through Night Strike, we have seen our guests receive felt need resources, gain housing, recovery services, and dignity through compassion and human interaction. Volunteers in turn, may get out of their comfort zone, and gain a new perspective. They also receive community, because all relationships are two way streets. Whether a guest or a volunteer, we desire to see those who come through Night Strike know that they are loved, they matter, and that they are known.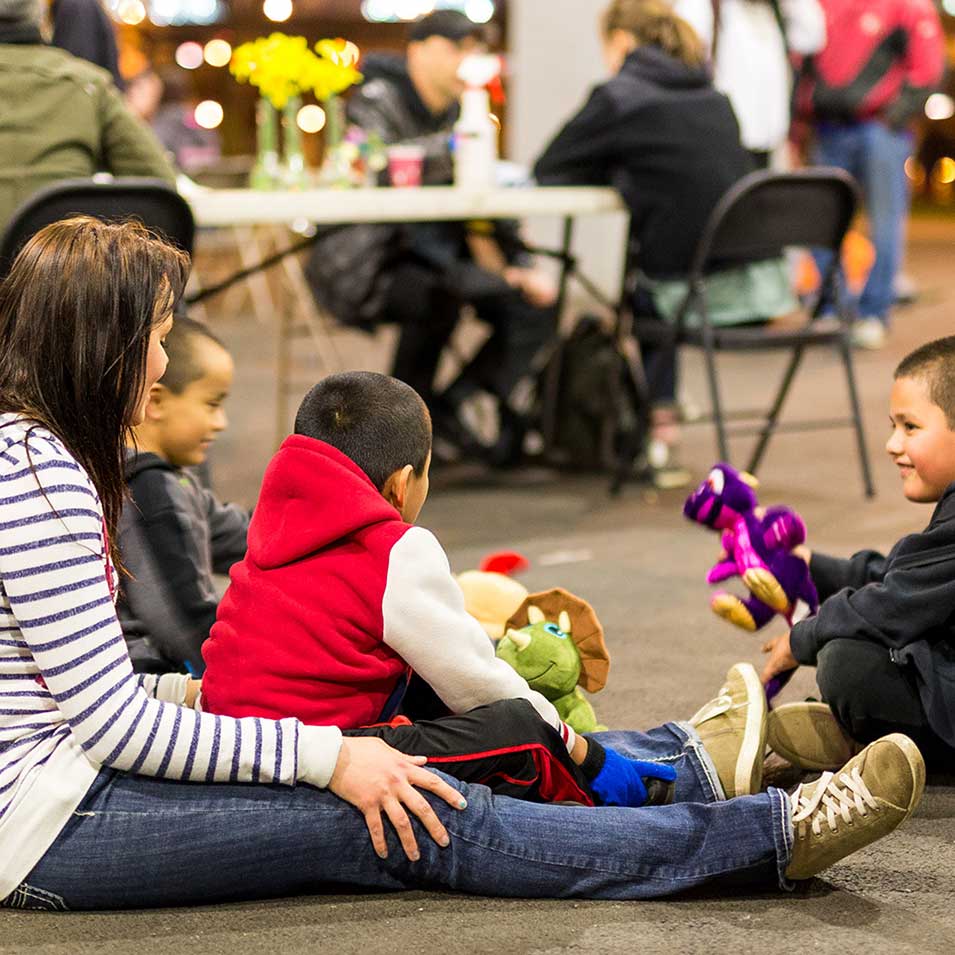 What's the minimum age for serving at Night Strike?
A: Night Strike is relatively safe, and we have many people of all ages who come for the evening, however, 6th grade is the minimum age that a person may volunteer at Night Strike. Younger children are required to stay with a responsible adult for the evening. Minors should be accompanied by a responsible adult.
Do I need to register before each date that I volunteer?
A: Yes. We have established a more robust online registration which includes all of our volunteer jobs. This means you can choose your job prior to Night Strike. Our online registration fills up fast! If you do not register, you may not get a job at Night Strike.
Is there any special training to get involved at Night Strike as a volunteer?
A: We host an orientation from 7:00-8:00pm prior to Night Strike. During that time you will receive essential safety training and direction for all we do in the city and under the bridge that night. Arriving after 7:00pm may mean your job will be reassigned, so come early! If you arrive after 7:15pm, you will have missed essential safety information, and may be excluded from serving guests under the bridge.
Can I store my stuff at Liberation Street Church?
A: No. Please do not bring your valuables, extra bags, or backpacks to Night Strike. The staff cannot store them at Liberation Street Church. Please leave valuables at home or in your vehicles. We do not want our guests to be put into situations that create temptation to steal.
A: There are lots of parking options! There is a parking lot on Ankeny between 2nd and the MAX line, or a parking garage on NE Davis and 1st. Or you can look for street parking.
You can help continue the cause of Night Strike.
It costs Because People Matter $800 to host Night Strike every week. This covers the "bare bones" cost of food, supplies, permits, and much more. You can help keep Night Strike going by contributing to these costs in a few different ways.
You can bring a donation! We accept monetary donations each week at orientation, or you can bring items to donate with you. We have our current needs listed below. This helps offset our cost-per-Night Strike.
You, your family, friends, business, community can sponsor a Night Strike! You can collectively raise $800 to cover all costs for an entire evening. (You can get creative by breaking down $800 into 40 friends donating $20, hosting a bake sale, or much more. We can even help brainstorm!)
You can join the Night Strike Tribe by donating $25/month to Night Strike. Use the donate button to contribute financially.
For more information on ways to contribute to Night Strike email info@bpmpdx.org.
Seasonal and Ongoing Needs:
Jeans
Tennis Shoes/boots
Sweatshirts (hoodies)
New, packaged underwear
New Athletic Socks
Tarps (8×10 or smaller)
Sleeping bags
Tents (must be complete with poles)
Special Needs:
Donations are accepted on Thursday prior to Night Strike at Liberation Street Church between 3:00-7:00pm. Check out our Amazon Wish List!
Travel sized toiletries (especially deodorant, razors and toothpaste)
Peanut Butter
Store bought jam
Coffee (ground)
Hot Chocolate (bulk cans)